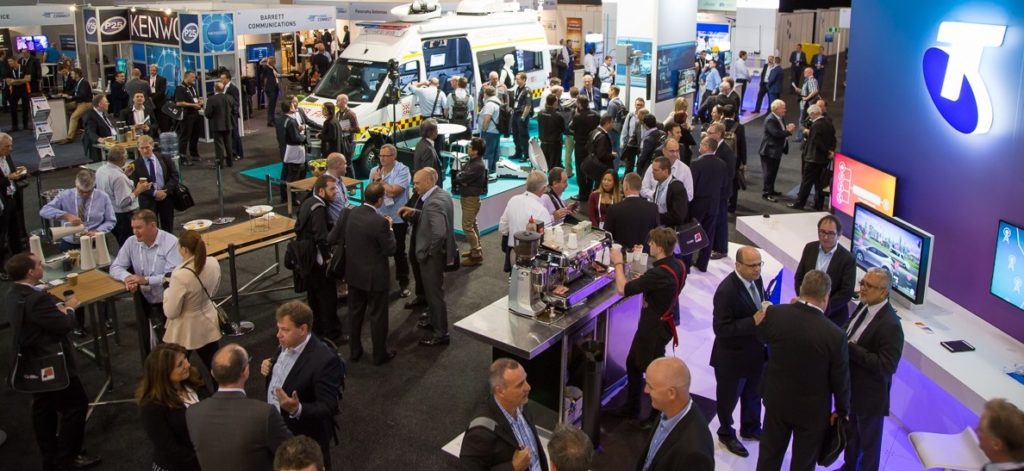 About the Expo
Increasingly, Comms Connect — whether Melbourne, Sydney or New Zealand — is seen as the 'go to' place for those serious about critical communications in the region. Whether they are users or consultants, channel partners or dealers, Comms Connect generates, countless opportunities to learn, network, explore and to keep up to date with all that is taking place in the field.
As a manufacturer or supplier to this sector, it's important to cement existing relationships whilst looking for new business opportunities. Over the years Comms Connect has developed to help you achieve these objectives, and more — it delivers 'must attend' events for users and industry alike.
Comms Connect Melbourne
Victoria – 68%
NSW – 12%
Queensland – 7%
South Australia – 2%
Tasmania – 2%
Western Australia – 3%
New Zealand – 3%
Overseas/other – 3%
Comms Connect Sydney
New South Wales – 85%
Victoria – 5%
Queensland – 5%
South Australia – 1%
ACT – 2%
Other – 2%
Comms Connect Auckland
Wellington – 45.4%
Auckland area and above – 16%
South Island– 20%
Central North Island – 14%
Overseas/other – 3%
Who visits?
Attracting the right audience to a conference takes more than just effort: it requires that the content is challenging, informative and engaging. Comms Connect 2019 will leverage the strong, well-established relationship we have with our magazine readers (Critical Comms) and website members (www.criticalcomms.com.au), plus our close ties with independent and government industry bodies, to ensure a highly targeted and quality audience for this unique event.
Here's a sample of organisations that attended 2018's conference and exhibition.
AAPT
ACMA
AFL
Ambulance Service of NSW
Arrium / OneSteel
Arrow Energy
Atlas Medical
Attorney-General's Department
Aurizon
Australian Customs and Border Protection
BAE Systems
Black and White Cabs (Brisbane)
Bureau of Meteorology
Canterbury Regional Emergency Management Office
Cellular Asset Management Pty Ltd
Chevron
Christchurch City Council
CommTel Network Solutions Pty Ltd
Comwide Communications
ConnectEast
ConocoPhillips Australasia
Corrections Victoria
Corruption and Crime Commission
Country Fire Authority
Crosscom Pty Ltd
Crown Castle Australia
Crown Melbourne Ltd
Defence Materiel Organisation
Department of Community Safety
Department of Defence
Department of Justice
Department of Police & Emergency Management Tasmania
Dept of Fire & Emergency Services
Dept of State Development,
Business and Innovation
DMO Land Engineering
Emergency Services Telecommunications Authority Ergon Energy
ERICO
Ercisson Australia
Exemplar Technologies
Fire & Emergency Services Authority
Fletcher Communications
FMG
GE Digital Energy
Gencom
Gippsland Water
Hitachi Kokusai Electric
KiwiRail
La Trobe University
Land Engineering Agency
Litchfield Council
Metro Trains Melbourne


Metropolitan Fire Brigade
Miles Electronics
Mine Site Technologies
NBN Co
New Zealand Fire Service
NSW Police Force
NSW Telco Authority
NZ Fire Service
Optus
Origin Energy
OZ Minerals
Pacific National Coal
Parkville Youth Justice Precinct
PBE Australia
Qenos Pty Ltd
Queensland Fire & Emergency Services
Queensland Police Service
RailSystems
Rio Tinto
Royal Australian Navy
RRL Rail Systems
SA Government Radio Network
SA Power Networks
Santos Ltd
Shoalhaven City Council
Signals NZ Ltd
South East Water
St John Ambulance
Sydney Trains
Tasmania Fire Service
Telstra
Tennis Australia
Tetracom
Thales Australia
The Order of St John New Zealand
Transgrid
Transurban
Traffic Vehicles & Logistics 
UGL – Rail Systems
Urban Maintenance Systems
UXC Consulting
Veolia Water
Vic Department of Justice
Victorian Institute of Sport
Victoria Police
Victoria SES
Victrack
Visionstream
Wattle Glen Fire Brigade
Water Treatment Australia
Woodside Energy Ltd
WorleyParsons
Yarra Valley Water