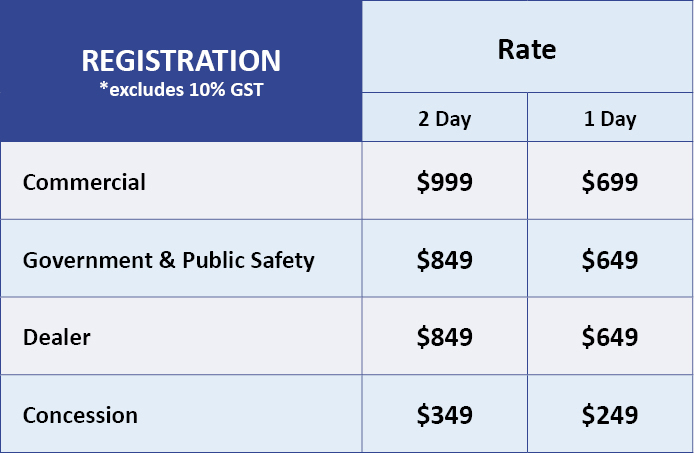 GROUP REGISTRATION: Register 3 delegates for the same registration package and a 4th attends FREE
For large group bookings contact us on events@comms-connect.com.au
Check out the two-day conference program
Registration Inclusions
Full Conference Registration
Attendance at conference sessions and exhibition hall – 18-19 October
Delegate Satchel including conference guide
Access to the soft copy of presentations post-event
Morning tea, lunch and afternoon tea
Networking drinks (Wed, 18 October)
Day Registration
Attendance at conference sessions on selected day and exhibition hall (18-19 October)
Delegate Satchel including conference guide
Morning tea, lunch, afternoon tea on the nominated day
Networking drinks (Wed, 18 October)
Workshop Only Registration
Attendance at pre-conference training workshop sessions
Workshops to be held on October 17, with details and registrations to open from August 21
Morning tea, lunch, afternoon tea (depending on morning/afternoon workshops booked)
Access to the exhibition hall (18-19 October)
Access to Networking drinks (Wed, 18 October)
Trade Expo Visitor pass*
Access to Comms Connect Exhibition Hall on Wednesday and Thursday during opening hours
Does not include catering
ARCIA DINNER
The ARCIA Industry Gala Dinner Awards will take place on the evening of October 18 at the Melbourne Convention and Exhibition Centre, South Wharf, following day one of Comms Connect. As always, the event is a night to network, celebrate and experience all that is great about the radio and critical communications industry! This year's guest speaker and MC for the evening is Paul McDermott, the well-known Australian entertainer and comedian who will make sure we all have another great night! Book your Industry Gala Dinner tickets now >>
Terms & Conditions at bottom of page – remove the line starting with ARCI Gala Dinner
Registration Categories T&C's
Dealer
Company or representative of a company that sells, installs, integrates or maintains radio communications equipment, accessories and solutions for commercial and/or government end users.
Concession Rate
Students
In order to qualify for the student rate, you must be a full-time student and be able to supply ID/registered number on request.
Volunteers
The discounted rates for volunteers applies to registered volunteers with the following organisations:
Rural/country fire services
State Emergency Services
Ambulance Services
NSW Volunteer Rescue Association
Land management services
Coast Guard
Life-Saving
Australian Red Cross
St John Ambulance
ID/registered number must be supplied on registration.
*Exhibition visitor
Terms of issue of Expo Entry Pass
The Expo Entry Pass is not available to those looking to sell their products and services to attendees, including exhibitors, delegates, speakers or other third parties. To sell your products or services to attendees please contact the organisers to book an exhibition stand. Sales, management or marketing staff from vendor companies not exhibiting or sponsoring do not qualify for the Expo Entry Pass. To network with delegates, please book a full conference pass for the days you intend to be present. Anyone found or reported to be taking advantage/exploiting the Expo Entry Pass will be asked to leave immediately.
Terms & Conditions
Payment: Once registration is received a confirmation email and tax invoice payable within 30 days (or prior to the conference, whichever is the sooner) will be issued.

Early bird payment: If registering for a delegate pass at the Early Bird rate payment must be received before the early bird closing date or an invoice will be reissued at the full rate. All conference and function payments must be made in full prior to attendance. If payment is not received prior to the conference, access will be granted only after full payment is made via credit card upon arrival. If you register and have an outstanding balance and for any reason do not notify us that you are unable to attend full payment is still required.

ARCIA Gala Dinner: If dinner tickets have been included in your conference package and are not paid for before 30 September 2023 these will be cancelled.

Cancellation: If you are no longer able to attend this event, a substitute delegate is welcome at no extra charge. Should you wish to cancel your registration, we will refund your registration fee less an administration fee of $100 per registered delegate, provided you have notified us in writing, by email, at least 10 business days before the start of the event. No refund is available for cancellations under 10 days.
Marketing Promotion: All visitors acknowledge that they may be photographed or filmed by the Organiser's official photographer/videographer, and consent to their image being used in promotional material by the Organiser.
Data privacy: By voluntarily allowing an exhibitor to scan the barcode on your badge you consent to allowing that exhibitor to have access to the details you entered during registration. The responsibility for this data then becomes that of the exhibitor acting as the data controller.
Comms Connect does not transfer any supplied data to any other organisation and all data are permanently held in Australia.