Comms Connect Melbourne 2023 will feature six pre-conference workshops on October 17, brought to you by our Association partners, ARCIA and ACCF. BOOK YOUR TICKETS HERE –discounts apply to Comms Connect conference delegates.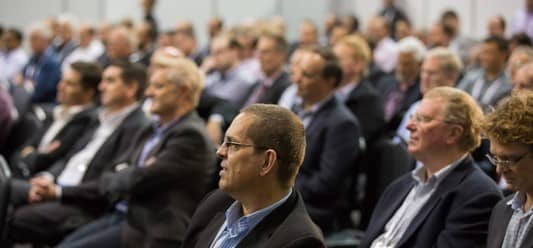 Stream 1 – ARCIA
9:00am-12.30pm (includes morning tea)
Fee: $499+ GST workshop only, $449+ GST delegate fee
PRIVATE LTE/5G – FUNDAMENTALS OF THE TECHNOLOGY & SYSTEM DESIGNS
Presenter: Simon Lardner, Head of Wireless, Vocus
This course will provide students with the skills to be able to outline the key elements and components of a typical wireless broadband communication system. Students will be able to develop the block diagrams and system elements for designing a basic system and demonstrate the expected requirements and outcomes of such a system, both in basic and extended formats.
On completion students will be able to understand and identify the various elements associated with system design, including the relevant spectrum sectors that are associated with wireless broadband and understand the potential outcomes that a relevant to all options that are applicable.
Certification: There will be no assessment or certification for this course however learners will receive a certificate of participation.
Featuring:
Background to mobile data development
History of LTE and 5G technology developments
Private LTE/5G and the mobile market segments.
The benefits of industrial LTE/5G systems
Key connectivity advantages
Towards the future and 5G and more
Basic system design & building blocks
Public safety applications of LTE/5G
­­­­­­­­­­­­­­­­­­­­_________________________________________________________________________________
1.30pm-5.00pm (includes afternoon tea)
Fee: $499+ GST workshop only, $449+ GST delegate fee
DESIGNING AND PLANNING MICROWAVE NETWORKS
Presenter: Eddie Stephanou, Regional Technical Manager, Cambium Networks
Whether you are new to microwave and planning fundamentals or you are looking for a refresher, this workshop will provide you with an up-to-date overview on microwave radio planning that will assist you in planning and deployment efforts. This is an interactive session where you will also have the opportunity to ask questions on all things microwave during this live session.
The workshop will cover:
– Microwave Fundamentals
Transmission Line
Pathloss
Fresnel Zones
Water and Flat Earth
Important Equations
– Availability and Performance Objectives
– Industry Myths – Getting back on track
– Using planning tools to bring it all together
– Q&A
Stream 2 – ACCF
9:30am-12.15pm (includes morning tea)
Fee: $299+ GST workshop only, $249+ GST delegate fee
Workshop: Mission Critical Broadband Standards, Security and Satellite Services. – Users and Suppliers including user cases.
09.30
Opening of Workshop
Jonathan Brine, co-Chair ACCF
Status and progress of 3GPP standards & Interworking
Kevin Graham, TCCA CEO
Cyber Security, Challenges and Solutions
Neha Dhyani,  Senior Security Advisor
Bhuvneshwar Tyagi,  Cybersecurity Architect NOKIA
Low Earth Orbit Satellite Communications Transforming Australia's Connectivity Landscape
Ashley Neale, Space and Satellite Vocus Pty Limited
Public Safety – Anywhere Communications
Brett Pearson, Assistant Manager Radio and Electronics Services West Australian Police
Public Safety Mobile Broadband Mandate
David Morrant, Director Stakeholder Engagement, NSW Telecom Authority
Q&A – Panel Discussions
Convenor: Jonathan Brine
Panel Participants: David Morrant (NSW TA)
Bradley Creevey (NEMA)
Brett Pearson (WA Police)
Neha Dhyani (Nokia)
Bhuvneshwar Tyagi (Nokia)
Kevin Graham (TCCA)
Ashley Neale (Vocus)  
12.15
Conclusion AM Workshop
_________________________________________________________________________________
1.15pm-4.30pm (includes afternoon tea)
Fee: $299+ GST workshop only, $249+ GST delegate fee
Workshop: Learning from International Mission Critical Broadband Deployments – Government and Private Industry.
13.15
Introduction to "Lessons from critical broadband deployment"
Kevin Graham, CEO TCCA
Priority Cellular Services for New Zealand PSN
Lincoln Mackay, Head of Technology, Hourua New Zealand
Progress of FirstNet USA
Jeff Bratcher, CTO FirstNet USA
Working towards a National Public Safety Broadband Network (PSBN) in Canada
Phil Crnko, Engineering Adviser Halton Regional Police Service Canada
Australian National Emergency Management Agency (NEMA) – taskforce, background and objectives
Bradley Creevey, Assistant Coordinator General, Operational Capability Branch (PSMB Task Force Lead)
Driving Public Safety Broadband Technology innovation- Practical demonstrations- Lidar Scanning, Augmented Reality Tracking Visualisation, Mobile Fingerprint Scanning and Incident Command Dashboard for Public Safety
Derrek Orr, Brianna Huettel Simon Ledgerwood NIST/PSCR USA
Private LTE/5G driving innovation & deployments- partnering with telco's
Julian Gorman, Head of GSMA-APAC
EU Critical Comms Projects: Beyond BroadNet/Map project and EU MC initiatives
Andreas Heschl, Head of Public Safety Product Management, Frequentis
Critical Comms Projects: France RRF and Middle East
Selim Bouri – Vice President MENA and APAC Airbus
Open (Q&A) panel with the speakers Topics: Global perspective and the Future mission critical MCX / 3GPP standard position forming, spectrum needs
Convenor: Kevin Graham
Panellists: Jeff Bratcher (FirstNet USA)
Derrek Orr (PSCR/NIST USA)
Phil Crnko (PSBN Canada)  
Lincoln Mackay (Hourua NZ)
Julian Gorman (GSMA), Andreas Heschl (Frequentis) Selim Bouri (Airbus)
Gosta Kallner (450 Alliance)
16:45
Workshop concludes
Stream 3 – ARCIA
8:30am-12.30pm (includes morning tea)
Fee: $499+ GST workshop only, $449+ GST delegate fee
INTRODUCTION TO P25 STANDARDS AND SYSTEMS (SHORT COURSE)
Presenter: Chris Stevens, Managing Director CartGIS and Vice-President ARCIA
Learner Level This course is designed for students with basic knowledge of land mobile radio technology and systems. An understanding of how frequencies, antennas systems and transmitters and receivers work is preferred.
Course Objectives This course introduces the student to the P25 digital land mobile radio standard. Modules include a high-level overview of the P25 digital radio standard as a transmission media including the TIA standards, modulation, vocoders, channel access. An introduction to the P25 standard will be covered including Phase 1 & 2, conventional and trunked system, encryption, system components (e.g., RFSS, ISSI, CSSI etc).
The information is introductory in nature and designed for all audiences, however a basic understanding of radio communications would be beneficial.
Certification There will be no assessment or certification for this course however learners will receive a certificate of participation.
Digital Radio Systems
What is digital land mobile radio communications?
Channel Access
Bandwidth
Modulation
Vocoders
Digital LMR Planning Considerations
P-25 (APCO Project 25)
Introduction to P25
Overview & Features
Interfaces and System Model
Voice
Supplementary Data
Location Services
Encryption and Authentications

Key Management Interfaces

Terminal Management
Interoperability
Manufacturers & Cost
_________________________________________________________________________________
1.30pm-5.00pm (includes afternoon tea)
Fee: $299+ GST workshop only, $249+ GST delegate fee
P25 STANDARDS, SYSTEMS & GOVERNANCE USED IN PUBLIC SAFETY NETWORKS
Moderated by: Chris Stevens Managing Director CartGIS & ARCIA Vice President
International Guest speaker: Ms Chery Giggetts, Principal Consultant, CTA Consulting
Speaker panel: TBC
Workshop Overview
Despite predictions by government bureaucrats and industry pundits past years regarding the imminent demise of Land Mobile Radio (LMR) used by Australia's Public Safety Agencies and its replacement by public safety mobile broadband (PSMB) networks, LMR remains the key technology platform for mission critical voice communications used by these Agencies and will remain so for the foreseeable future.
Ongoing investment in LMR in Australia and New Zealand continues, with the recent launch of the new $763M Tasmanian Government Radio Network and the decision by the New Zealand Government to develop a Public Safety Network (PSN) incorporating an upgrade of its existing LMR network to be used in conjunction with a new PSMB capability, using New Zealand's mobile carrier networks.
Importantly in the USA investment in LMR continues to be underpinned by parallel investment over the past 35 years in the on-going development and maintenance of the P25 Standard for LMR through collaboration between the Telecommunications Industry Association (TIA) and the manufacturers and vendors that it represents, in conjunction with advice regarding the operational needs of First Responders using the P25 governance arrangements within the U.S. Department of Homeland Security.
The on-going Australian and New Zealand investment in LMR reinforces the need for an increased level of understanding in the use of the P25 Standards in LMR based communications capabilities and capacities across Australian States and Territories underpinned by the P25 governance arrangements used to produce the Standard, its overall strategic direction; the lessons to be learned from the use of the Standard in the USA; and the opportunity for the "End Users" of P25 products to have input to the on-going development of the Standard.
The Workshop will be a valuable forerunner to a presentation to be made about the P25 Standard as part of the Comms Connect Conference which will be followed by a Panel Session to discuss the current and future use of the P25 Standard in Australia and New Zealand.
Workshop Objectives
Increase your understanding of the purpose of the P25 Standard as an LMR Standard; the governance arrangements around its on-going development and maintenance; access to the P25 Standard; and the overall strategic direction of the P25 Standard.
Increase your understanding of the use of the P25 Standard in North America and its potential future development informed by the Statement of P25 User Needs (SPUN) and its alignment with the current use of the P25 Standard in Australia and New Zealand.
Consider potential benefits from Australian and New Zealand membership of the USA based P25 User Needs Working Group and P25 Technology Interest Group.
Consider the creation of a "Commonwealth P25 User Needs Working Group" i.e. Australia, New Zealand, and Canada to create direct connections with the P25 Standard governance arrangements.